Just when I thought I was starting to get acclimated to Tokyo, we headed off into the sunset (not really) towards Kyoto. The train arrived somewhere around 10:00 PM, giving us enough time to make it to our hotel and decompress a bit before sleep. This time around, we were staying in an actual hotel with beds. Believe me when I say that you can only truly appreciate the beauty of a normal bed after you've slept in a pod. But I digress. Soon after our loving reunion with standard sleeping furniture, we dozed off. We had a big day ahead of us.
---
Our first order of business (after checking out of our hotel and into the next one, trust me this is relevant) was to visit Kiyomizu-dera Temple, a bustling tourist attraction with great views of the city. At Charles' behest, we attempted walking, but after 5 minutes we realized we couldn't keep it up for another 35. Although, during that short walk we got a good glimpse of downtown Kyoto architecture. It felt much more like a standard city than the towering buildings in Tokyo.
Another note about Kyoto is that the metro system wasn't as robust as Tokyo's, at least for visiting tourist attractions. Taxis, however, were abundant and reasonably priced. A short ride and walk up a hill later, we arrived at the temple.
Kiyomizu-dera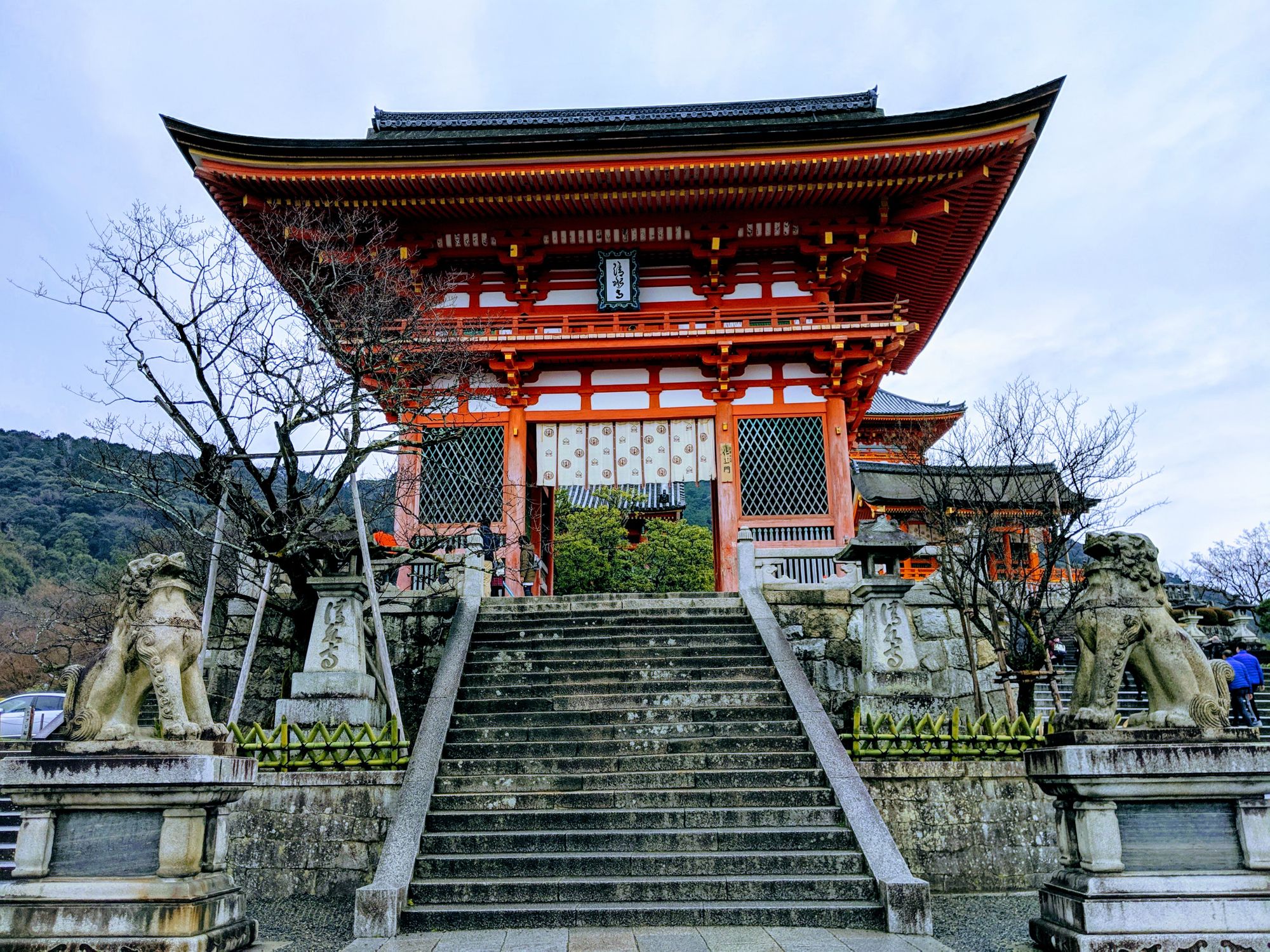 The inside was pretty standard as temples go, lots of ceremonial statues and ritual apparatuses. There was a purification fountain we took part in, like the ones we saw previously at Meiji Jingu, and further inside we lit and placed some incense in a large pot.
After passing through the temple proper, we wandered around some smaller plazas with more statues. What's striking about the area is how touristy it is for a temple, lots of small shops for charms and whatnot existed along the main paths, and most shrines had signs in English explaining their purpose.
My favorite of these shrines was a pair of stones placed maybe 20 feet from each other. Supposedly these stones could tell the future regarding your love life, as if you could successfully walk from one stone to another with your eyes closed your love would be fulfilled. Naturally, I tried this. Lucky for me, Alan and Charles ensured I made it to the other end, so I guess my love is going to be fulfilled? ¯\_(ツ)_/¯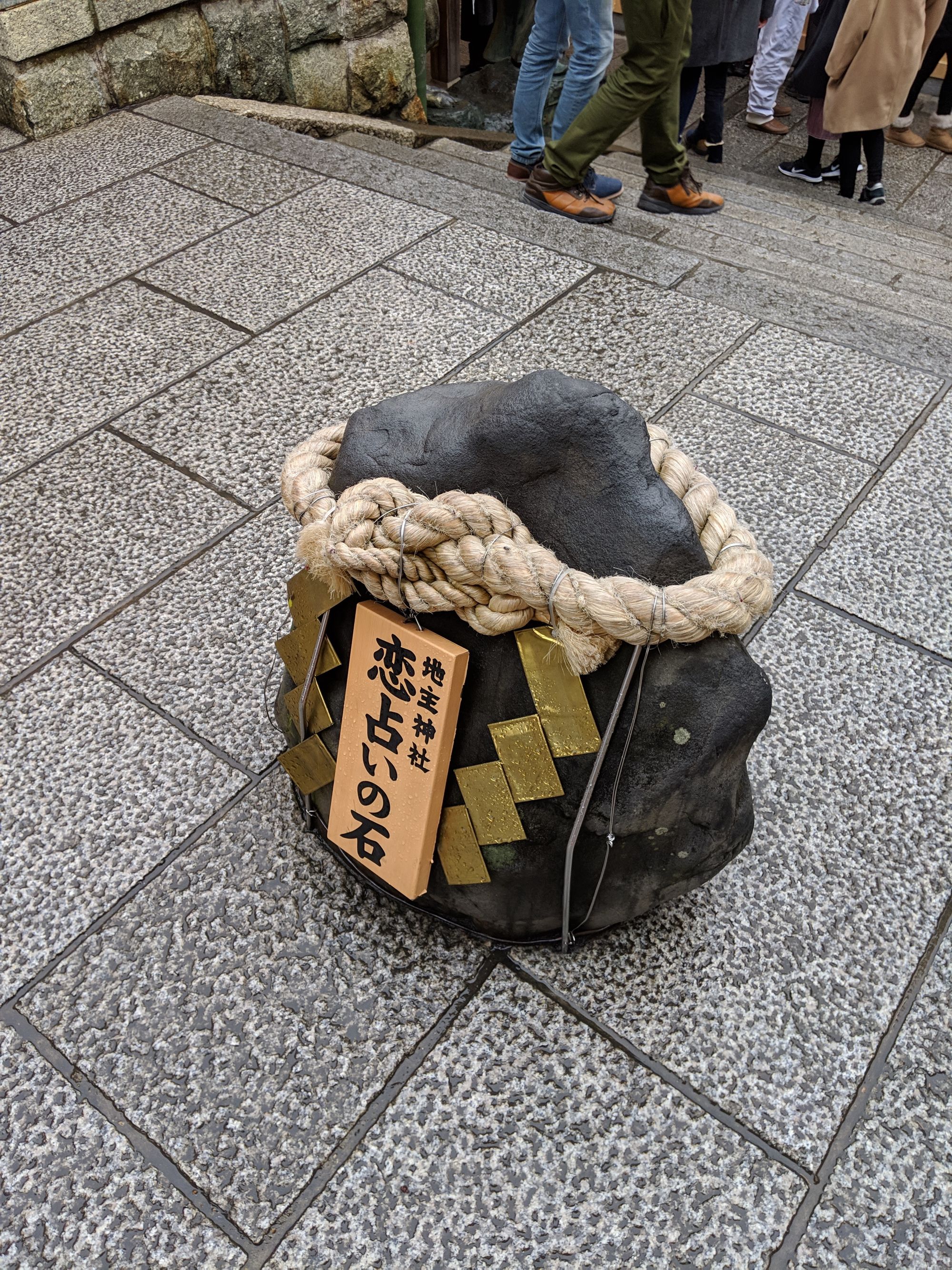 After we had our fill of the shrines, we left the temple and headed down the steep Matsubara-dori Street, collecting free samples from the myriad shops. We were supposed to be heading towards Chion-in Temple, our next stop on the itinerary. However, we got a little sidetracked.
Ryozen Kannon
Along the way I saw what seemed to be a giant Buddha in the distance, so of course we had to take a look. The statue and the surrounding area made up a WW2 memorial, and made for an interesting side excursion. While I could describe everything in painstaking detail, it seems far more efficient to just show you. So look!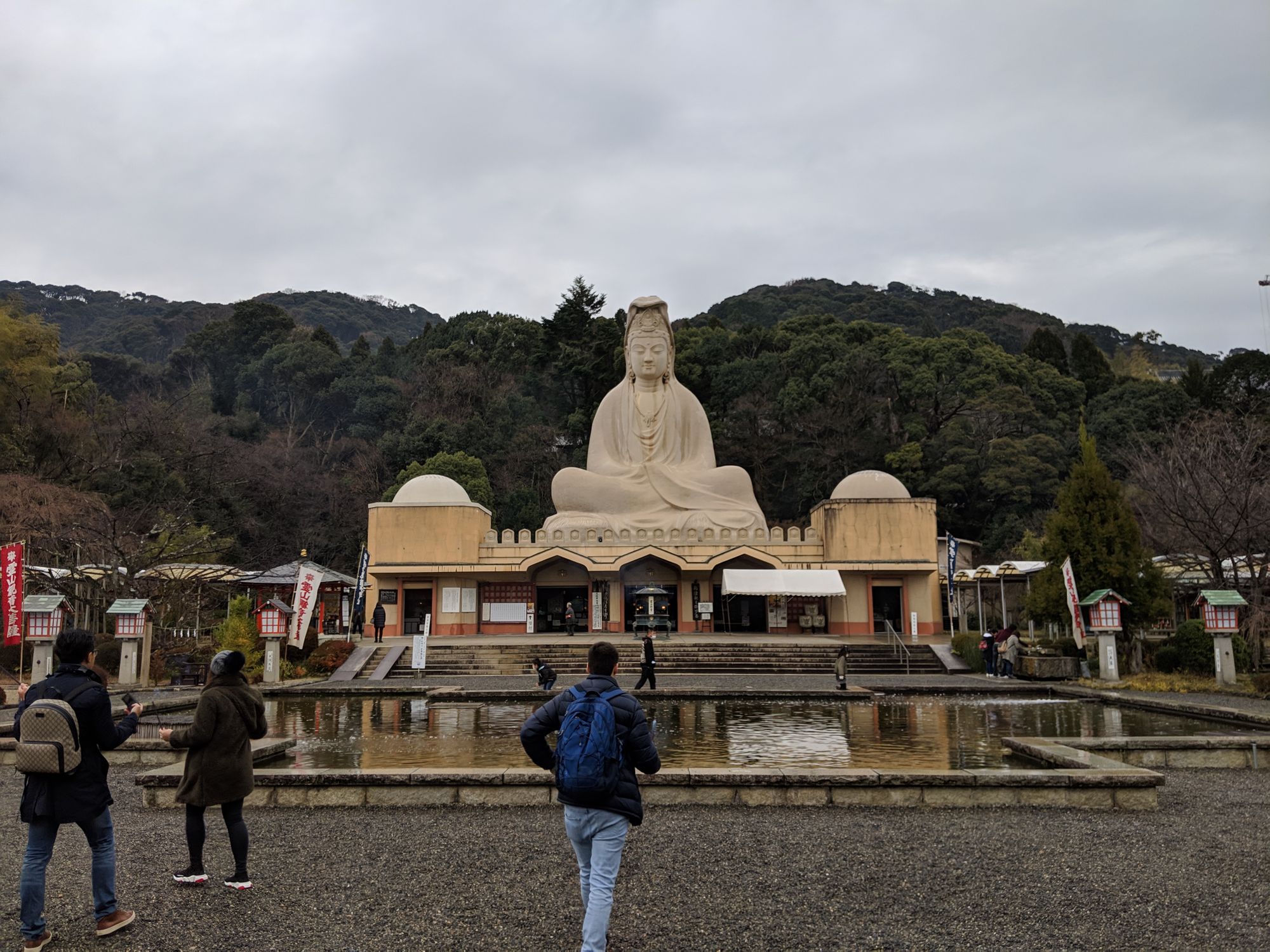 After the memorial, we went to our scheduled stop of Chion-in, and walked up a very long set of stairs that led to a shrine on the mountainside. Despite tourists filling the temple courtyard, the shrine at the top had only 2 other people, who I assume to have been actual worshipers. Being tourists, we were out of our element, so we snapped some pictures and headed downtown for lunch.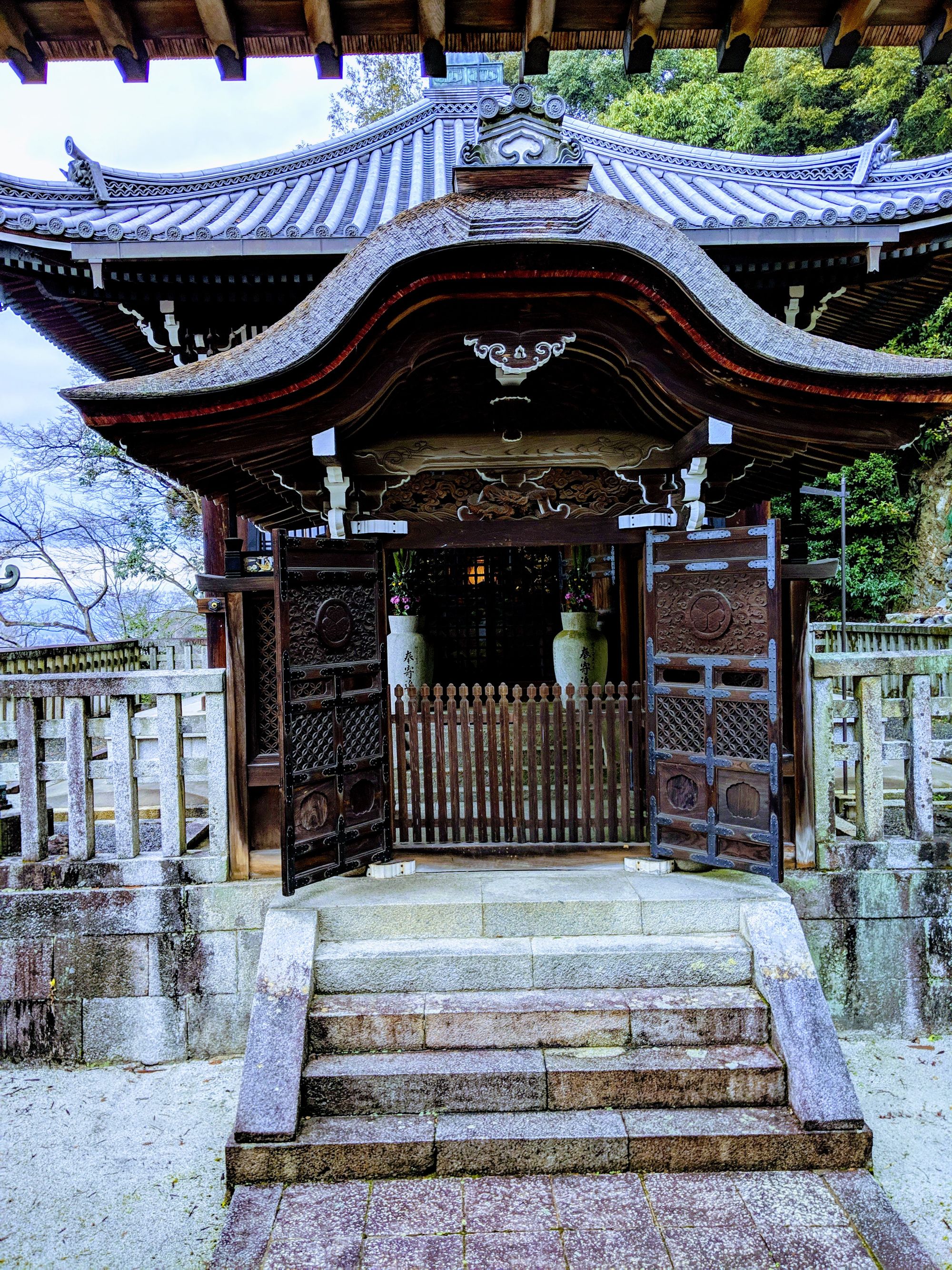 Downtown Kyoto
After some quick Google searches for nearby restaurants, we came to a consensus on udon and headed towards Marugame Seimen Kawaramachi Sanjo. Prior to this, my only interactions with udon were when my parents made stir-fry, so an eatery dedicated to the thick noodle sounded like a novel experience. At the restaurant, you'd order an udon base (I chose the one with curry) and then pick from the variety of extras and toppings (all kinds of tempura, vegetables, etc). You could even add fried batter bits (you know I did)! It was simply delicious.
Following our meal, we realized we had some time to kill. On the way to Marugame, we had passed by a storefront with some ridiculous looking parfaits (there was one that had a hotdog in it). It seemed like the perfect place to spend some time getting dessert. Unfortunately, I have no tales of trying strange confections, as we were all pretty basic in our choices. I forgot the exact names, but the treats were just variations of chocolate with brownies and other sweets mixed in.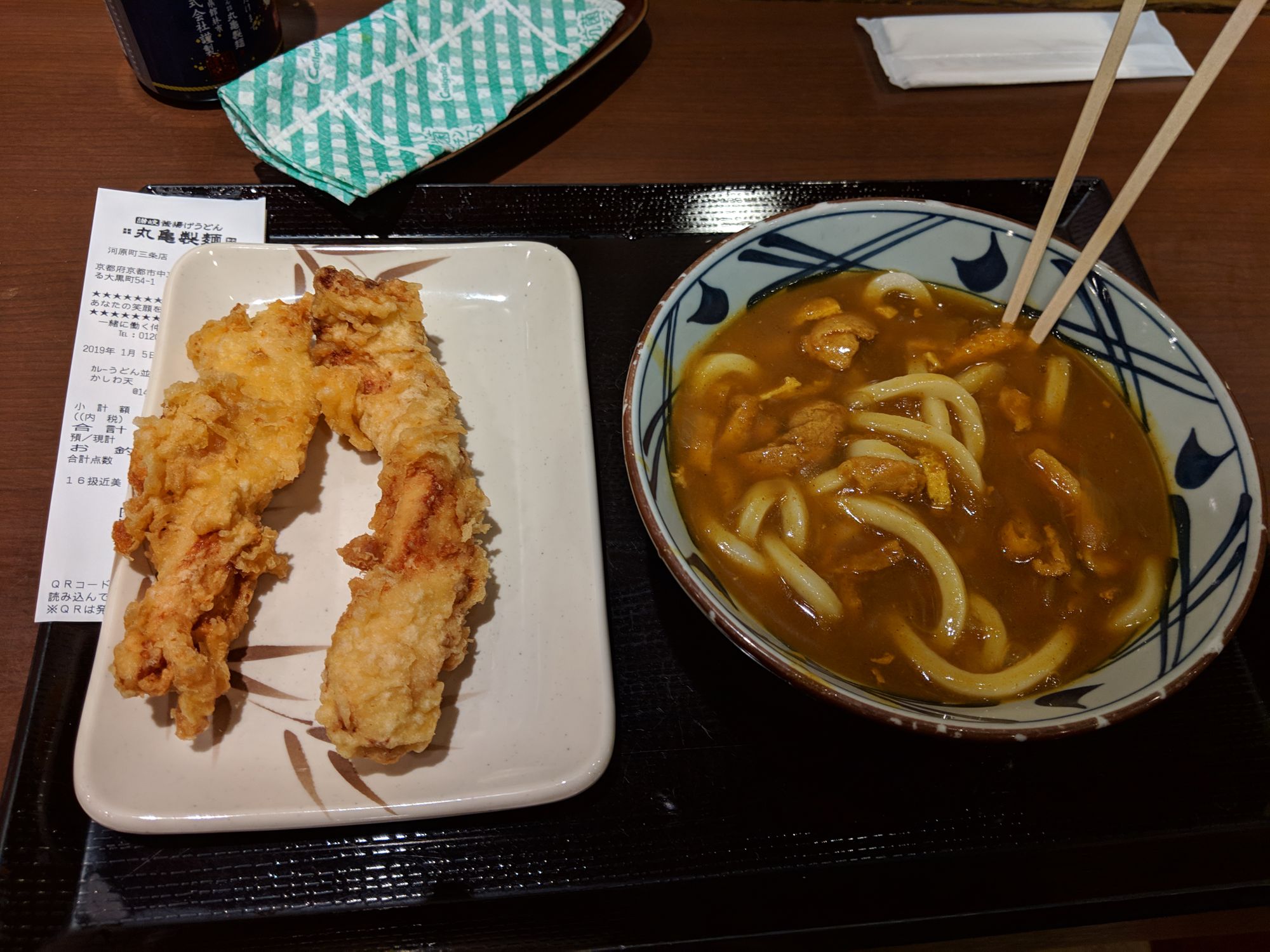 Up next was the famous Nishiki Market, a crowded street market lined with more shops than one can process. Like actually too many shops, I can only remember two: one that sold little baby octopuses on a stick, and another where Charles and I tried some "kobe" beef.
I say "kobe" because we weren't too sure about the authenticity of the meat we purchased. For one, it was in a street market. Two, it was sold as a kebab. Three, it was the cheapest price I'd seen for something called kobe beef (about $12 per skewer). Despite all this, Charles and I decided to try it out and split one.
Now, I've seen what kobe beef is supposed to look like. It's supposed to look marbled with lots of fat, as that's what makes it taste so good. The street vendor even had a kebab with some very promising meat as I could see such marbling. But when I pointed towards it, he gave me a different, decidedly less fatty skewer. I was too beta to make a scene and just accepted my fate. Sadly, it just tasted like regular beef. Shaking off our minor bamboozlement, we headed off towards Fushimi Inari, the shrine of a thousand gates.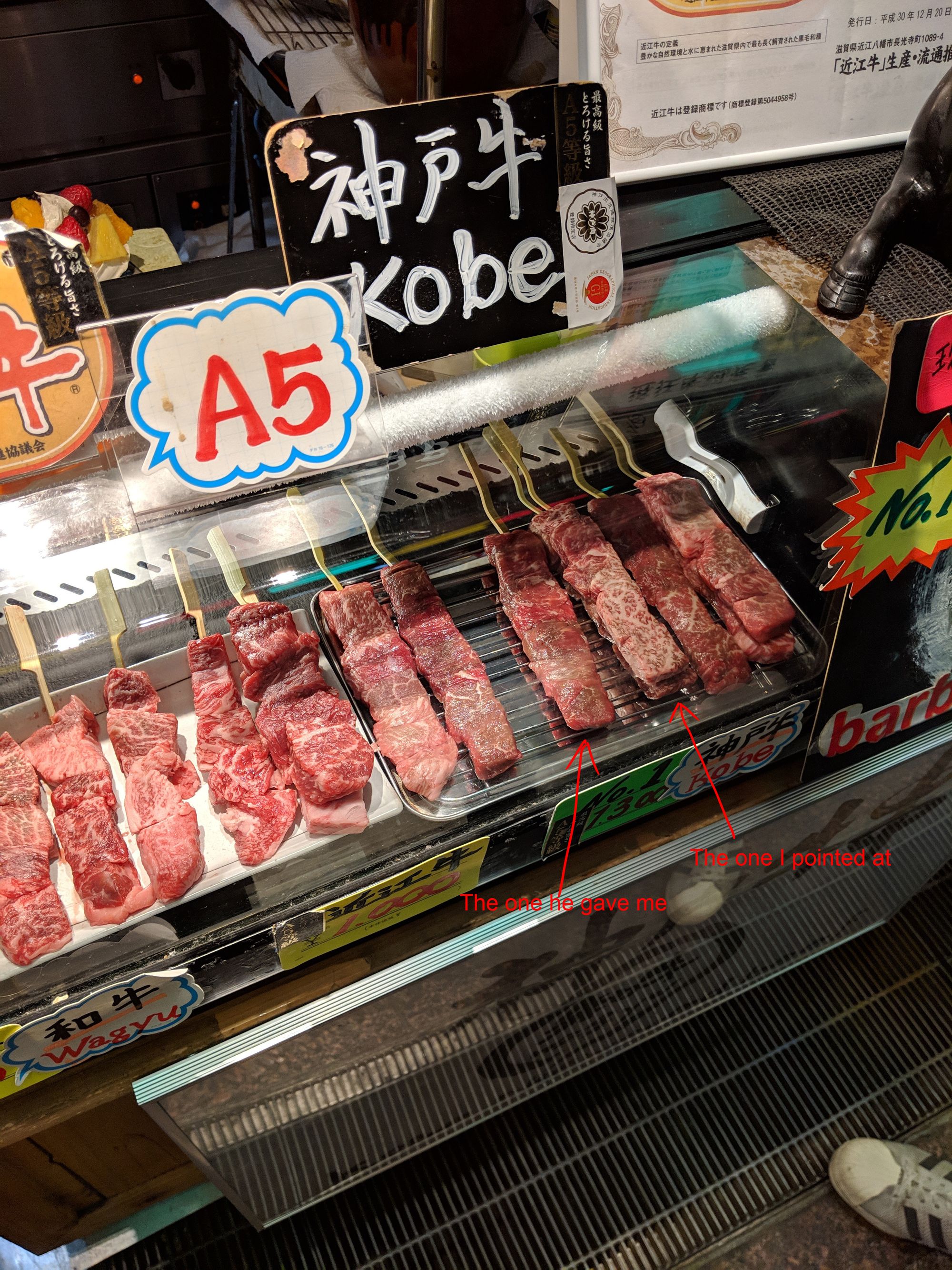 Fushimi Inari Shrine
Our taxi brought us a little bit outside the shrine proper, as we had to walk through throngs of people on some main roads before we get could get in. The shrine was situated on and around Mt. Inari, with a pilgrimage path that takes you to its 233 meter high summit. Following the path lets you see the thousands of gates the site is famous for, as well as eventually getting a decent view of the surrounding city (although our itinerary mentioned the full hike wasn't worth it, and that is somewhat true).
We started on the main path, or rather just followed the crowds for a long while. During the beginning there wasn't much to see other than more temple/shrine architecture that we had seen a lot of, as well as tons of people in all directions. However, our day was blessed when we came upon a man and his Shiba Inu resting on some steps. What made it so special was that this particular doggo was in a kimono. I mean, just look at her!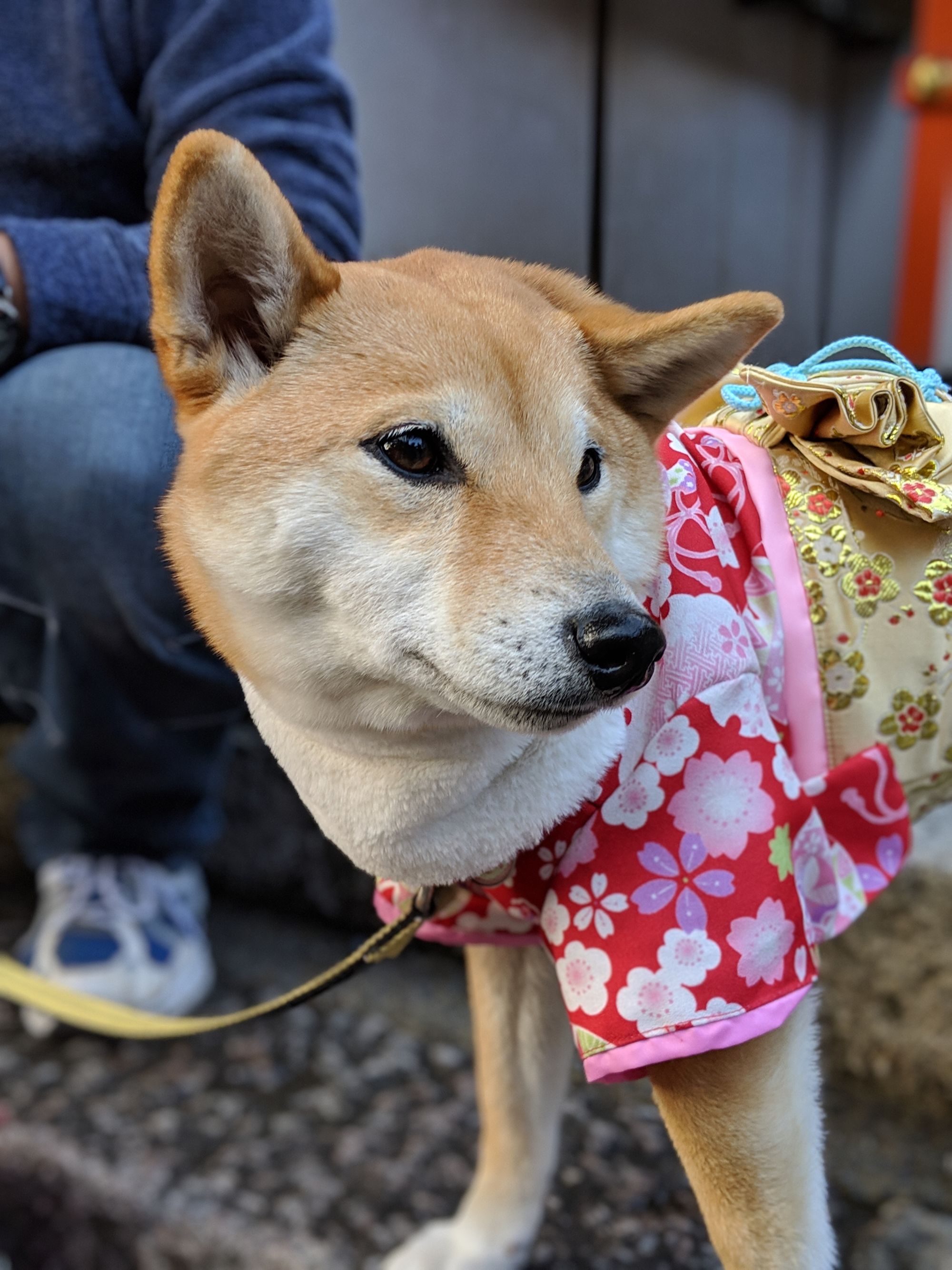 Unfortunately some traffic guards dispersed the small crowd that had gathered around the dog (despite us not really impeding anyone), and we were forced to move on. 😢
At some point during our walk, we took a wrong turn and went off the main path. The intended path is full of the gates the shrine is famous for, and has a relatively easy incline as you work your way up to the summit. The path we took was not so easy.
We were surrounded by a lot of forest, passing by sets of smaller shrines that had signs saying to keep out unless you were a worshiper. We even passed by a house on the path, which I assumed to be the home of some people who worked at the shrine. There was even a woodworker's workshop that seemed to give tours, but was empty when we got there (but luckily for us their bathroom was outside and open for use).
Otherwise the hike was uneventful, except for the difficulty slowly but noticeably increasing. I could feel my back glistening with sweat about half way in, but Charles and I wanted to power through and the reach the summit (I was hoping for a great view for a photosphere). Alan didn't have hiking shoes and was decidedly less enthused about the ordeal.
The greatest challenge came during the last 10 minutes, when the inclined path we had been taking turned into the steepest set of stairs I've ever taken in my life. It was a grueling workout, and when we reached the end of the stairs we still weren't at the top (and Alan was quite unhappy). Eventually we found the main path that we were supposed to take (that was our assumption as it was packed with people). It was only after another few minutes that we finally reached the top. And it was quite disappointing.
There wasn't an incredible view, just a shrine with lots of people. I'm sure if our purpose was to worship we would've found the experience more fulfilling, but in all honesty the itinerary was right. Once we realized there was nothing to see, we headed on the path down. At one point however, we did come to a small clearing where I was able to get this shot: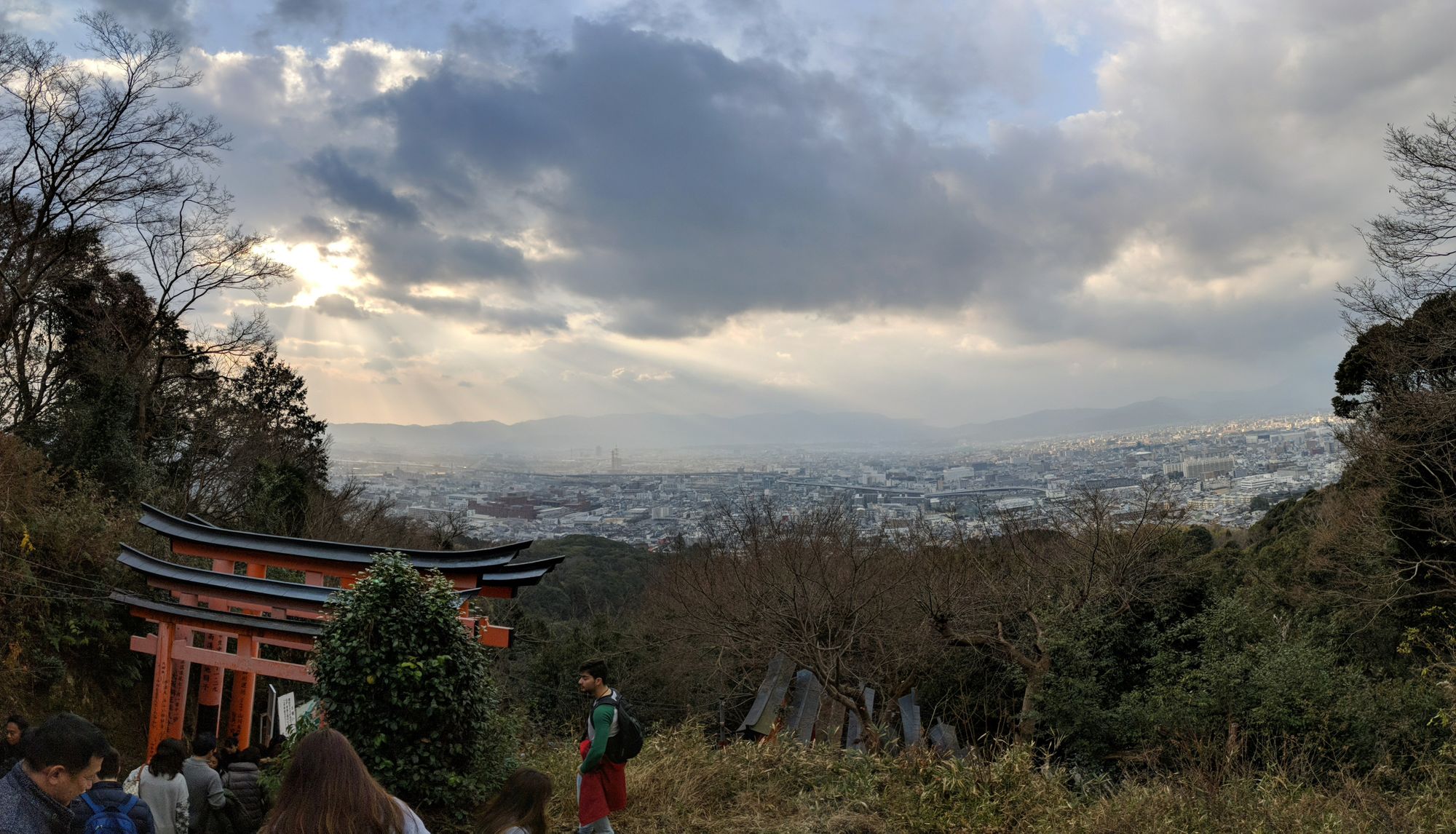 Also, while I was taking pictures, Charles saw an old gym buddy from high school. Small world huh? Approximately 20-30 minutes later we were back where we arrived, and we grabbed a taxi to the ryokan (a traditional Japanese inn) that we were staying at for the night. It was time to decompress after a long day of walking.
Downtown 2: Kyoto Boogaloo
The ryokan was an interesting experience, as our room was just a large area with a short table in the center and a bathroom. Instead of the beds you'd find in a normal hotel, we each had a thin rolled up mattress that we were encouraged to set up ourselves (although we could ask for help if needed). I forgot to take pictures of our room for posterity, but luckily the many others who have stayed there have done so.
After an hour or so of rest and relaxation, we decided to go to a public bathhouse before dinner, as our booking at the ryokan came with some bathhouse coupons. As we were leaving, I realized I didn't have my Dudeist necklace and I must've left it at the previous hotel (see I told you checking out in the morning was relevant). Fortunately, the bathhouse was in the same area so I was able to reclaim my necklace.
Anyways you're probably more interested in the bathhouse experience. And what an experience it was. The entrance was a sort of lobby area where we paid and received some towels before heading into the men's locker room. After disrobing, we wrapped our towels around our waists and headed in. The inside of the bathhouse was essentially a large hottub flanked with little shower stalls (for obvious reasons I have no pictures of my own but here's some Google-fu). It also had a few naked middle-aged men, and for a few seconds we were unsure of what to do. Then another man entered with no towel around his waist, and we scurried back to the lockers. Realizing the proper protocol, we removed our towels and briskly walked into the hottub.
There's not much else to say, as we simply enjoyed the water and (as the term "bathhouse implies") we bathed ourselves in the small showers. The novelty of being naked with your closest friends was quite an experience, one that perhaps brought us closer together. Nonetheless, I can survive if I don't end up in a bathhouse again.
Once we were fresh and clean, the only thing one our minds was dinner. Two of my friends, Leo and Kai, were in the area (Leo was about to begin his semester abroad in Japan) and we all met up at Kyoto station for some grub. Paralyzed by the myriad restaurants to choose from, we asked Kai for a recommendation and went with Katsukura, a tonkatsu restaurant. Charles and I tried Sake for the first time (by forgetting to drink it during our meal and chugging it like animals afterwards), and we rounded off our meal with some delicious Mister Donut. Shortly after, Alan, Charles, and I said our goodbyes to Leo and Kai and off we went.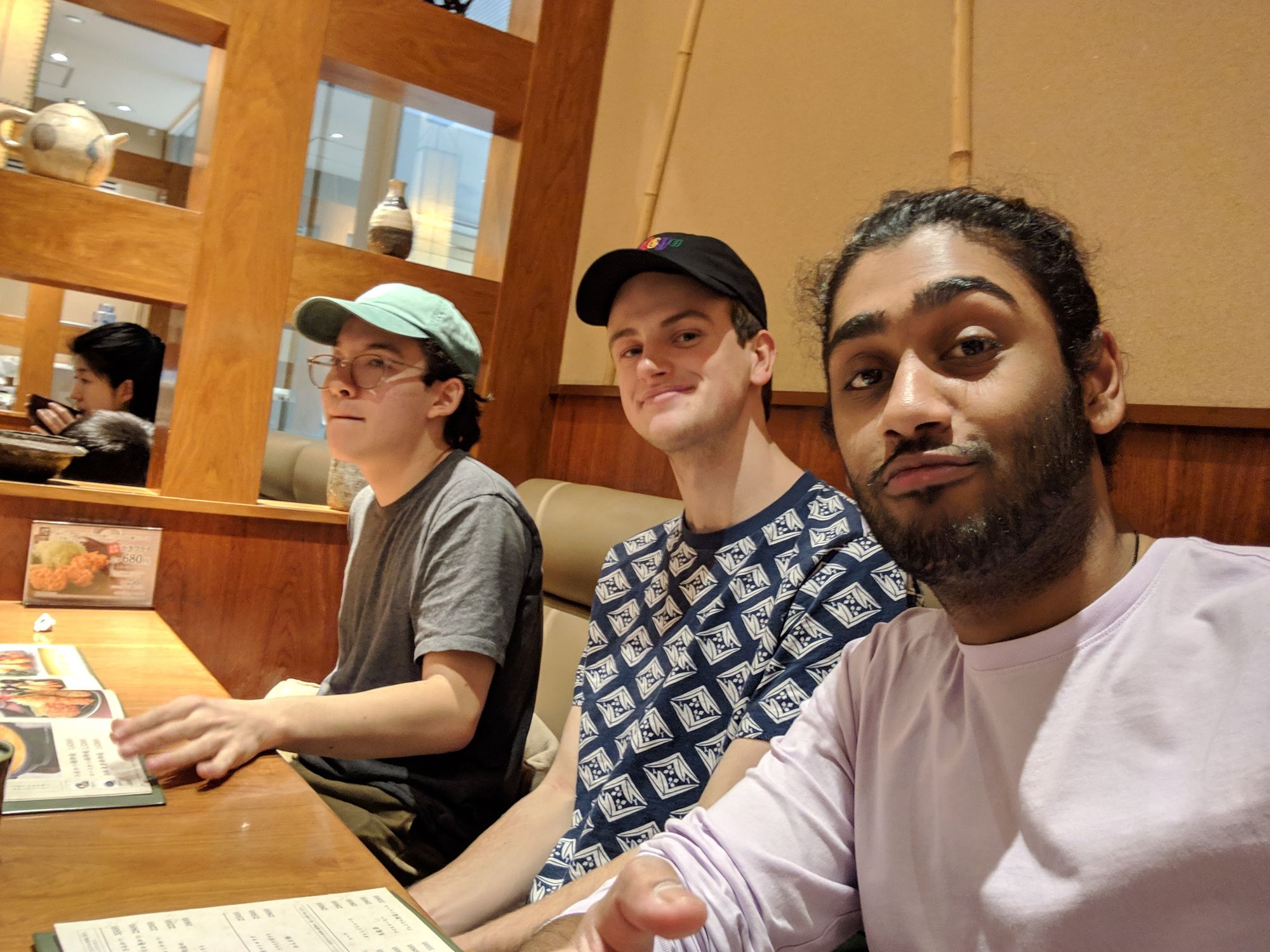 Aha, but the day wasn't over yet! That high school gym buddy that Charles reconnected with had plans to go out clubbing, and as it was a Saturday night it seemed like the perfect opportunity to experience Japanese night life. Charles and I met up with this other squad outside the doors of a club called Kitsune. The interior was very trippy, with red and blue lights illuminating the area in almost psychedelic patterns. The time we arrived was still early and so the club was fairly empty. This didn't stop one of the guys in the group from getting too excited and hopping on the stage with the, and promptly being kicked out.
No soldier left behind, as they say, and we all followed suit, the others going first to find a new club while Charles and I hung around for a bit. This turned out to be a tad problematic as once they found a new club, Charles and I had to find it. While drunk. Now, Charles was the one leading the way as he was the one who was texted the directions. Unfortunately, he was bit farther gone than I was. After walking around an entire block, we arrived back to Kitsune to realize that new spot, Club Royal, was just across the street. 🤦
Club Royal was far more active (and had a much cheaper cover), but we didn't stay long as it was getting late and we had more sightseeing to do the next day. So, after a few hours and $35 spent, we slogged back to our ryokan and crashed onto our sleeping rolls to catch a few hours of sleep. There was still much to see the next day, and so there was little rest for the weary.
---
View all the photos from the trip here!