Early in Fall Semester 2018, my friend Alan had the great idea of studying abroad in Singapore during the spring, so of course I hopped on board (as did our other friends Charles and Jing). Eager to make the most of our journey, Alan also suggested we spend some time in Japan right before the start of the semester, and Charles and I happened to be free. Fast forward to January 2nd 2019, us three are boarding our plane towards the Land of the Rising Sun.
---
Day 0
Alright so the title is a tad misleading as I'm actually going to start on Day 0 (the flight/evening we arrived). The flight was fairly standard, other than watching a version of Shane Black's The Predator so heavily (and creatively) censored that it was funny. As a sidenote, if you're interested in watching Bad Times at the El Royale, just know it's a worse version of The Hateful Eight.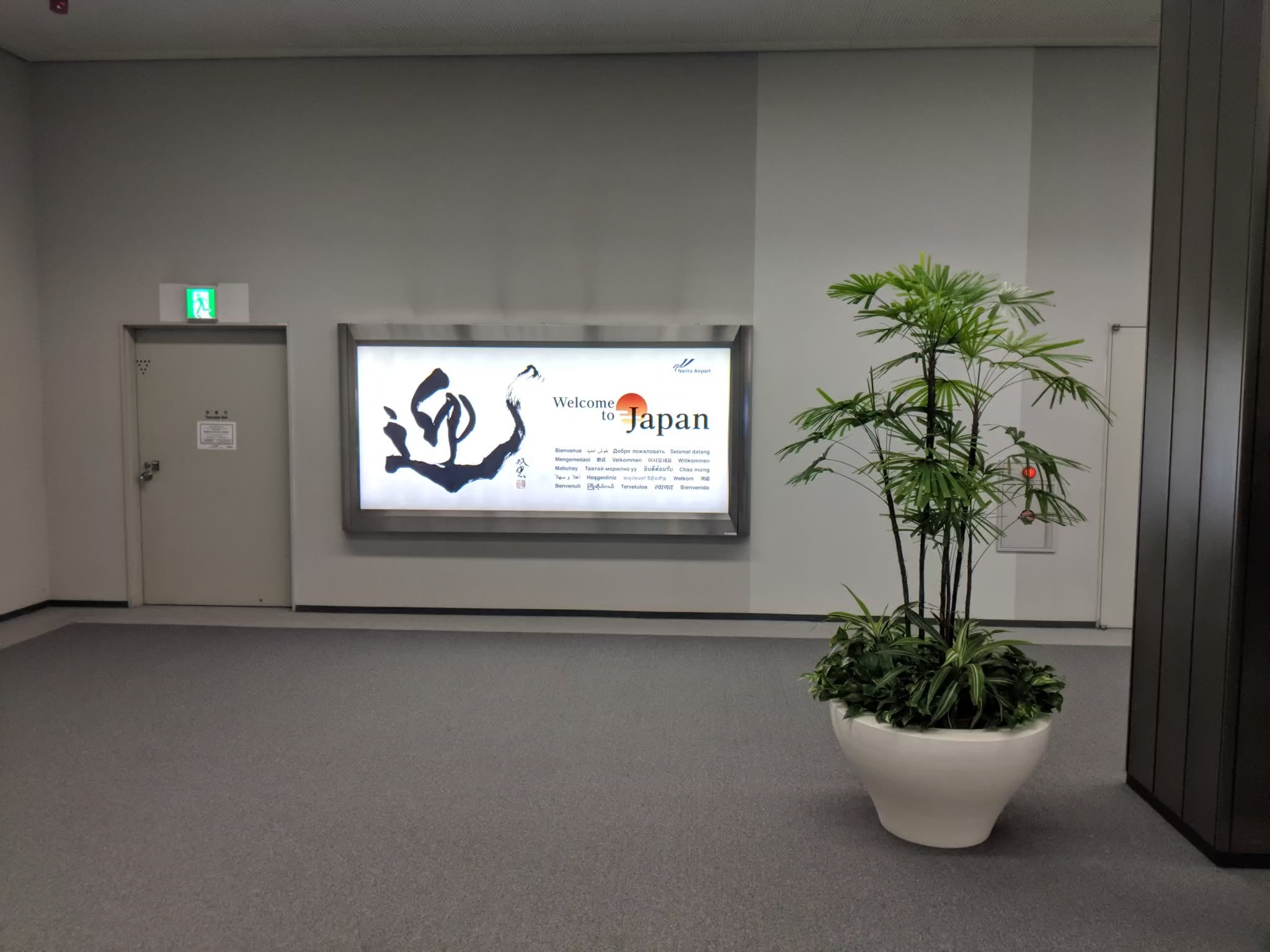 Anyways, we eventually landed at Narita airport and took the trains for about an hour to Shinjuku, a district in Tokyo that was centrally located for all the spots we planned on visiting (note: if you're going to follow that itinerary as well, bring good walking shoes). Japan's railway system is top-notch, and we got to Shinjuku without much issue or confusion.
Once at the station, we chose to walk the 15 minutes  to our hotel as we wanted to soak in the area (and Ubers were relatively expensive). One of the first things to soak in was that Tokyo's traffic lights had little meters showing how much time was left for pedestrians to cross (we began calling them mana bars). After going the wrong way for a few minutes and waiting for our mana to recharge, we found the right path and forged onwards to our destination.
Unfortunately, the streets of Shinjuku were not made for large, heavy luggage. Charles and I each brought 2 large bags, a carry-on, and a backpack, while Alan had the same minus a large bag. The sidewalks were already cramped enough with all the people walking about, and the cobbled surface kept knocking our bags out of line. Japan also uses patterns of lines and bumps on sidewalks and walkways to help orient the blind. In our case, they served to make it nigh impossible to drag our luggage around, killing my wrists in the process.
After that hellish ordeal, we finally reached the corner our hotel should've been at, but we were confused to see nothing but a small Chinese store and a pair of elevators (one being out of order). After looking around a bit, we looked up and saw the sign for our hotel. Turns out the elevators were the entrance after all. I came to realize very soon that Tokyo is a very vertical city, so if you're stuck trying to find a location, chances are it's just above you.
After checking in, we put away our stuff in a locker room and checked out our pods. Oh, did I forget to mention that we stayed at a capsule hotel? As per hotel rules, we had to take off our shoes and wear slippers they provided within the hotel area, and had to wear a uniform of sorts when sleeping in the capsules. We also had little wristbands that contained our locker keys and barcodes for scanning into the capsule room. Unfortunately I have no pictures of the room in full, but here are Alan and Charles lounging in their pods.
After we were all settled in (around 8:00 PM there), we figured it was about time to have some local cuisine for dinner. Charles suggested we try Ichiran Ramen, hailed as one of the best ramen shops in Tokyo. Alas, we arrived to find a line out past the door with a 45 minute wait. While this did corroborate Ichiran's high praise, the grumbling of our stomachs forced us to search elsewhere.
We eventually settled upon another nearby ramen shop called Kamukura, which was still pretty damn good, and cheap to boot! Even ordering the food was an interesting experience, as we had to choose our meal and pay for it via a sort of vending machine outside. Said machine would give us a ticket that we'd hand to the waitress, and a short wait later we had some piping hot ramen. Dinner also provided another impression of Japan, as it seems the country is very fond of cash. Even at machines where you'd expect to put in a card, cash was almost always preferred.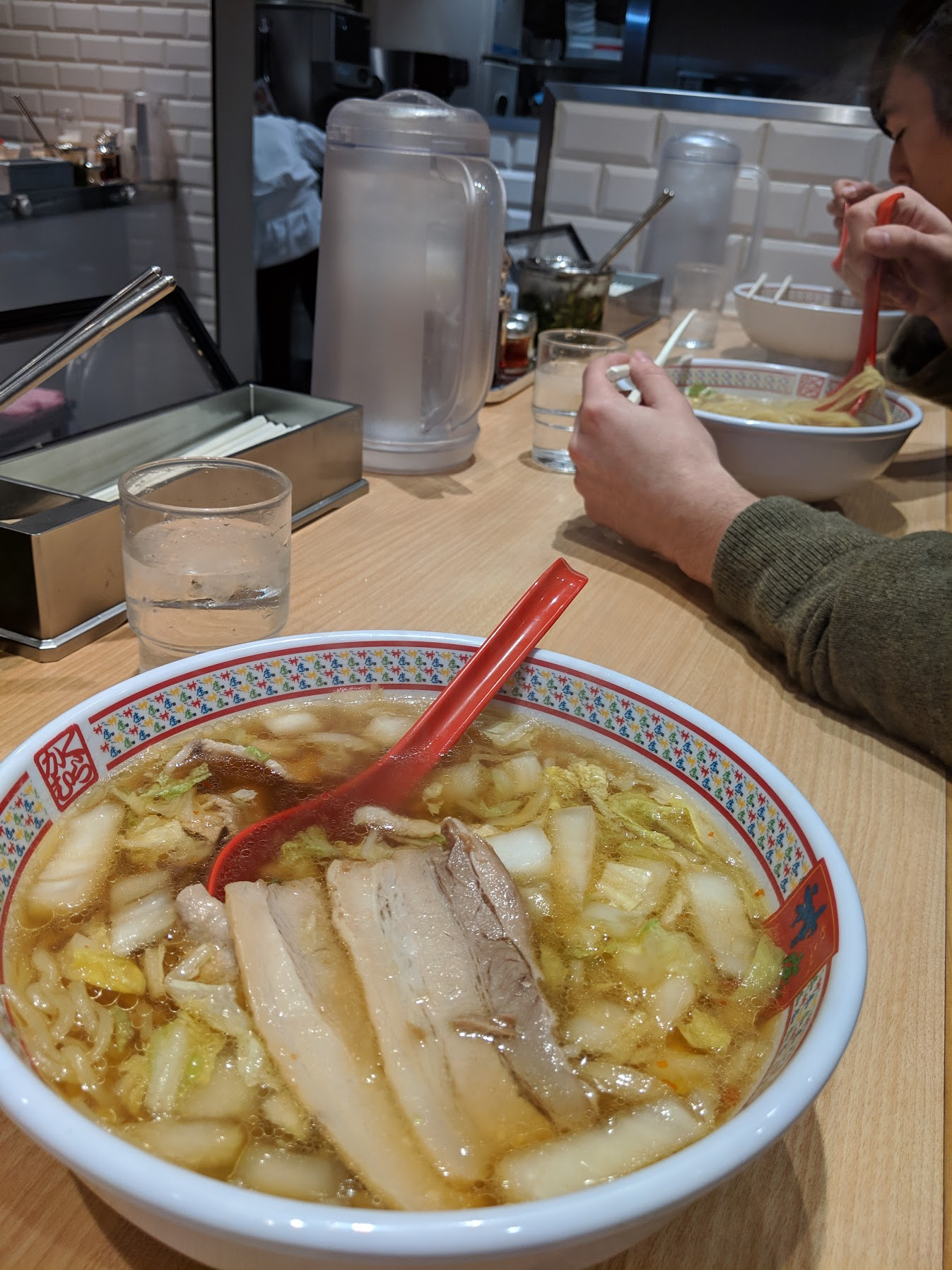 With full bellies and burned tongues (it was piping hot), we walked around Shinjuku for a while to see if we could find anything interesting. Not much was found (it was late and we weren't really looking), but we did come across the popular chain Mr. Donut and stopped by for some dessert. I gotta say, Mr. Donut sure knows his donuts.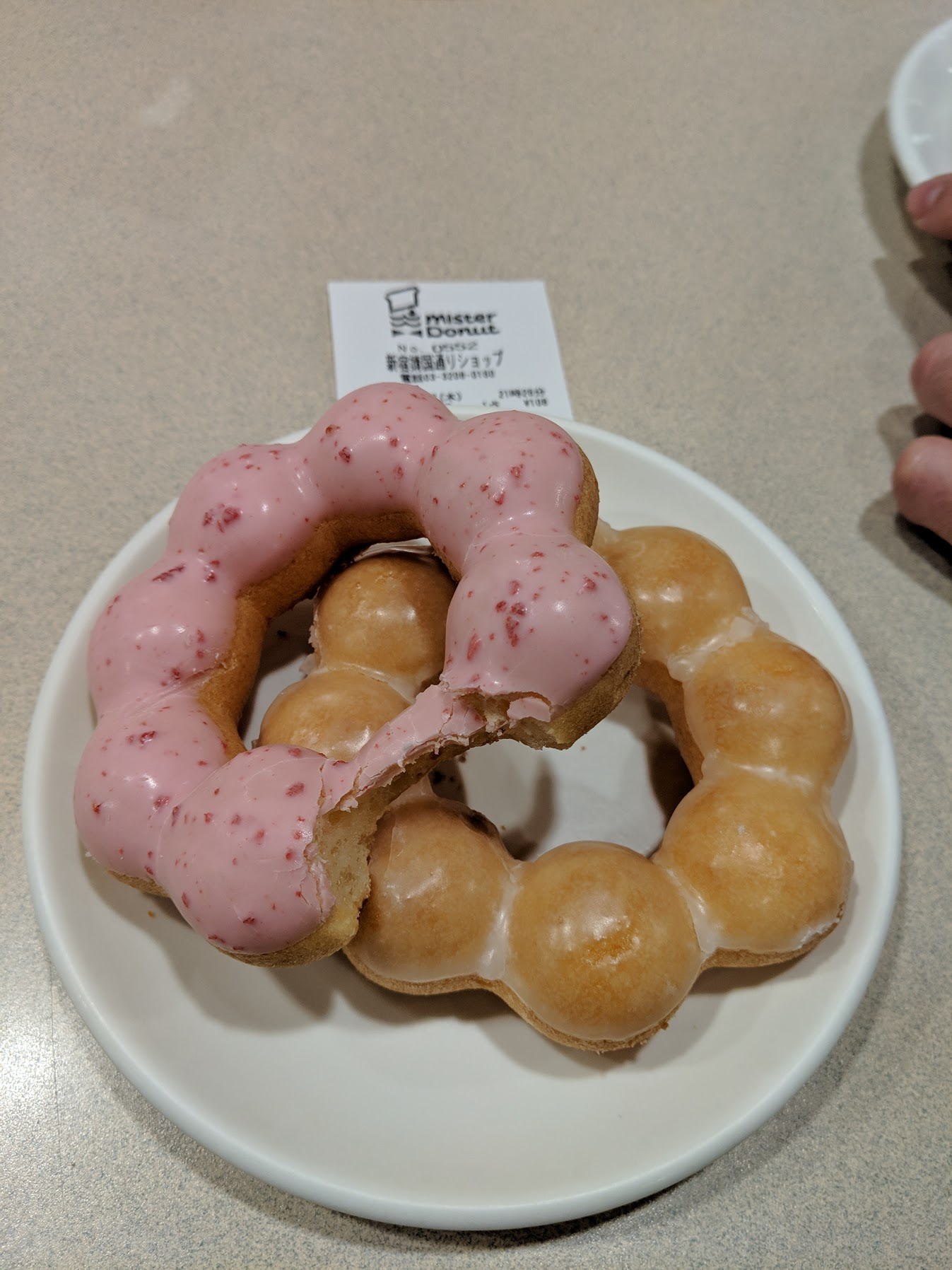 That was pretty much it for our first night in Japan, AKA Day 0. Most shops were closed around the time we finished with our donuts, so we headed back to our pods to get some rest. The next day was going to be very busy.
---
Day 1
We got up fairly early and walked to a nearby coffee-shop chain called Tully's to grab some breakfast and plan our day. The first order of business was to visit the Meiji Jingu shrine and the surrounding park. After a short trip on the Fukutoshin line, we arrived at the shrine and, like every other tourist, snapped a ton of photos while we walked along the paths. Closer to the shrine proper, we found a lot of people lined up at a sort of fountain with ladles. We learned such fountains are part of a purification ritual where one is to rinse their hands and mouth with the water before entering the shrine. Naturally, we took part as well and continued around the park.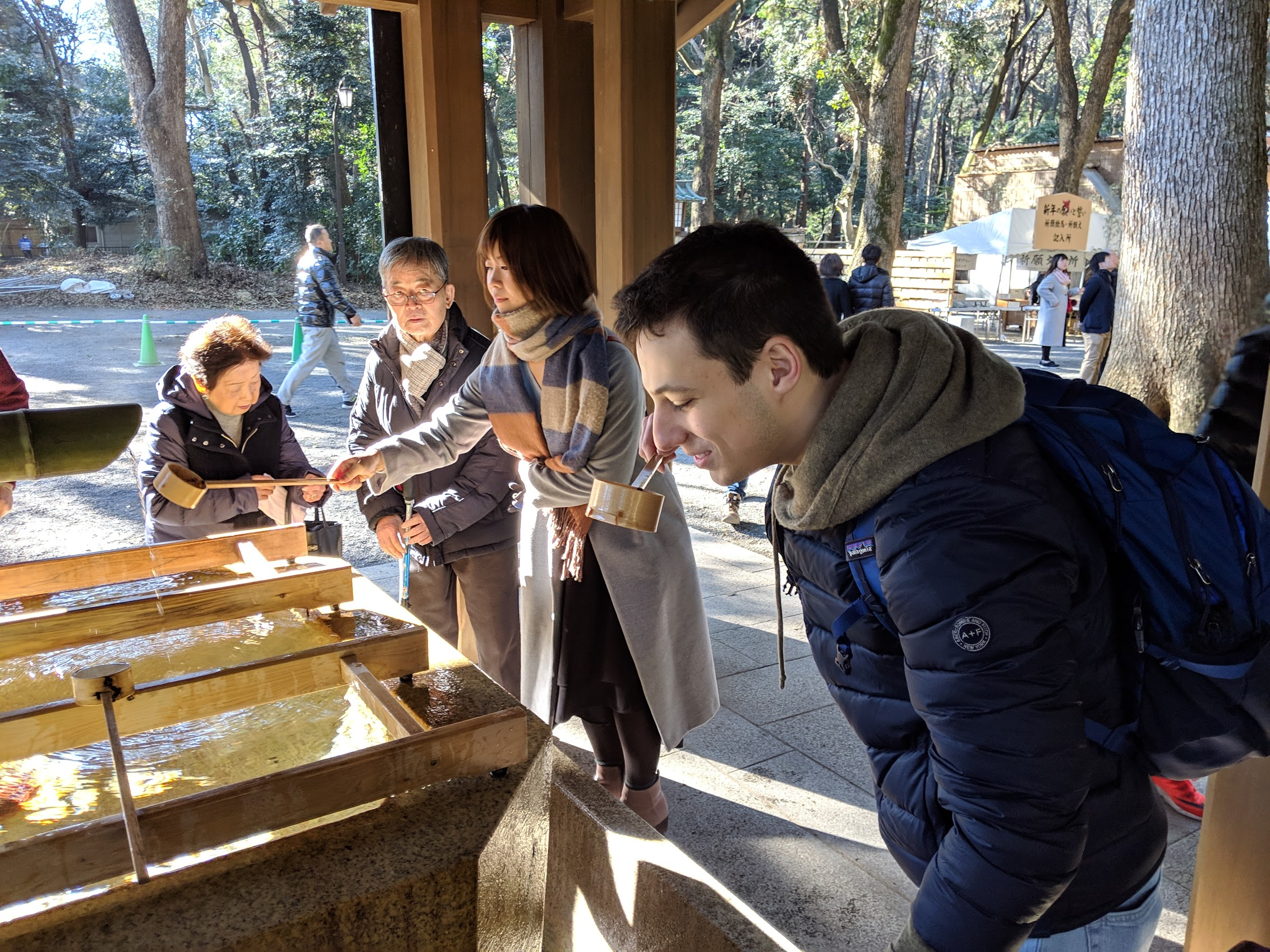 After the shrine, the next stop on our tour was the Nezu Museum, an art museum in the Minato district. Unfortunately, we arrived at the museum to find it closed for renovations until the 9th. While disappointing, skipping the museum brought us back on track as we were previously behind schedule. And so we found the nearest subway station and took a train for the famed Shibuya.
Immediately after exiting the Shibuya train station we were thrust into the middle of Shibuya's equivalent of Time Square: Scramble Crossing. It's simply a large intersection where all sides stop to let pedestrians cross, and so pedestrians cross every which way.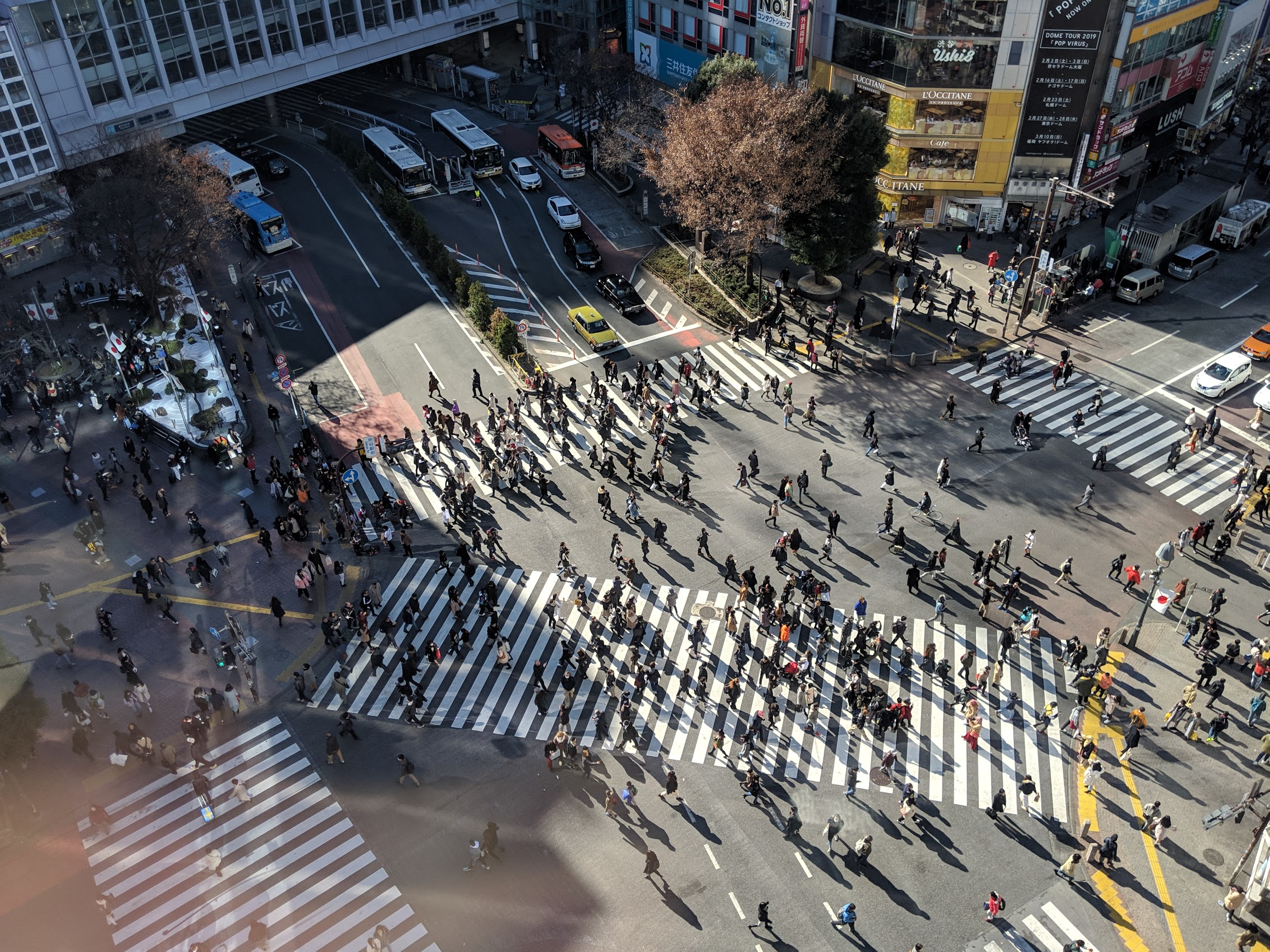 After taking in the sights, we stopped for a quick snack at McDonald's. Because have you really visited a country if you haven't ate at their McDonald's? With that out of the way and a copious amount of chicken nuggets in my system, we wandered around the area taking pictures until we made our best decision of the day: to visit a cat cafe.
Only a short 10 minute walk from Scramble Crossing was Cat Cafe MoCHA, a wonderful spot on the 8th and 9th floors of a building that served unlimited soda/tea/hot chocolate/etc. and housed more cats than I could count. They charged approximately $2/10 minute slot, which was a hell of deal (not to mention they didn't charge us for the extra minute into the next time slot). It was a great break in the middle of the day to just sit down and chat while petting a bunch of soft cats.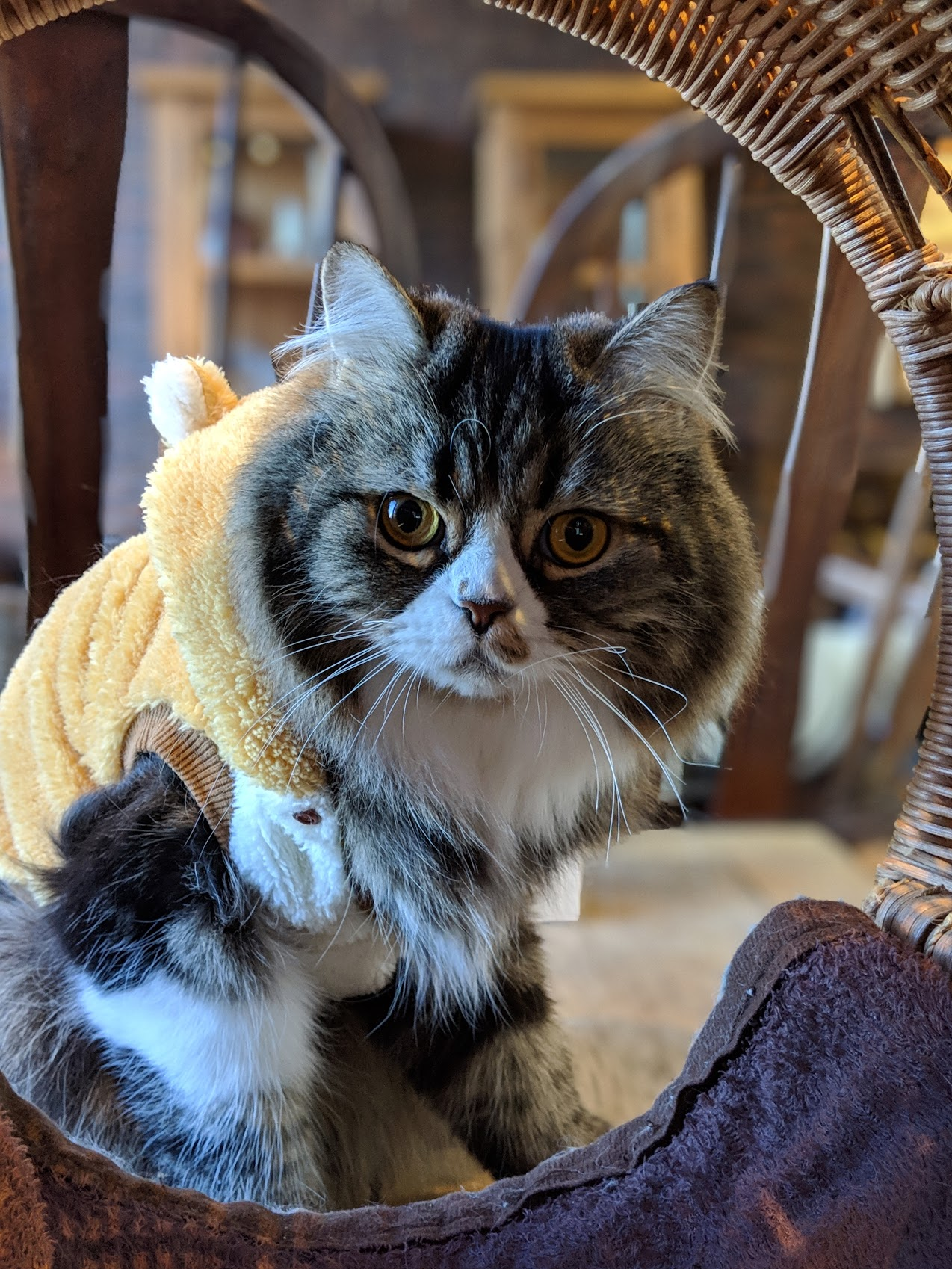 The next stop after Shibuya was the Roppongi Hills area, a "mere" 30 minute walk east. I say that in quotes as the walk was anything but light, and there wasn't much to see along the way (we walked along the highway as it was the shortest route). We did however have time to make a small stop at Dolci Cafe Silkream, where we got some delectable soft-serve ice cream. It was here that I made another observation that reoccurred throughout our trip: Japanese chocolate seemed to have a unique, almost burnt taste that I hadn't experienced before. It wasn't bad, simply interesting.
Eventually we reached Roppongi Hills, easily identified by the massive Mori Tower. At the top of the Tower was an art museum, as well as an exhibit on the artwork of the manga duo Fujiko Fujio. There's not much to say here other than we saw all the art, which was amazing to see. There are photos, but there are too many to dump in the middle of a blog post, so instead I'll link the album for the whole trip at the end.
The Mori Tower was the end of our scheduled programming for the day, so all that was left was to get some dinner and head off towards Kyoto for more touristing. I say all that was left was dinner, but that's not to understate the significance of that night's dinner: it changed my life. I ate sushi and enjoyed it for the first time.
We went to Uogashi Nihon-Ichi, a famous standing sushi bar that Alan and Charles had found online. Upon entering, we saw two chefs behind a counter serving customers 180 degrees in front of them, and we were motioned towards some spots. Initially I was just an observer, watching the others order and happily scarf down sushi. I couldn't help but wonder though, perhaps this sushi might actually taste good. Alan eventually caught me sizing up his food and prodded me until I ate a piece. And so the floodgates opened.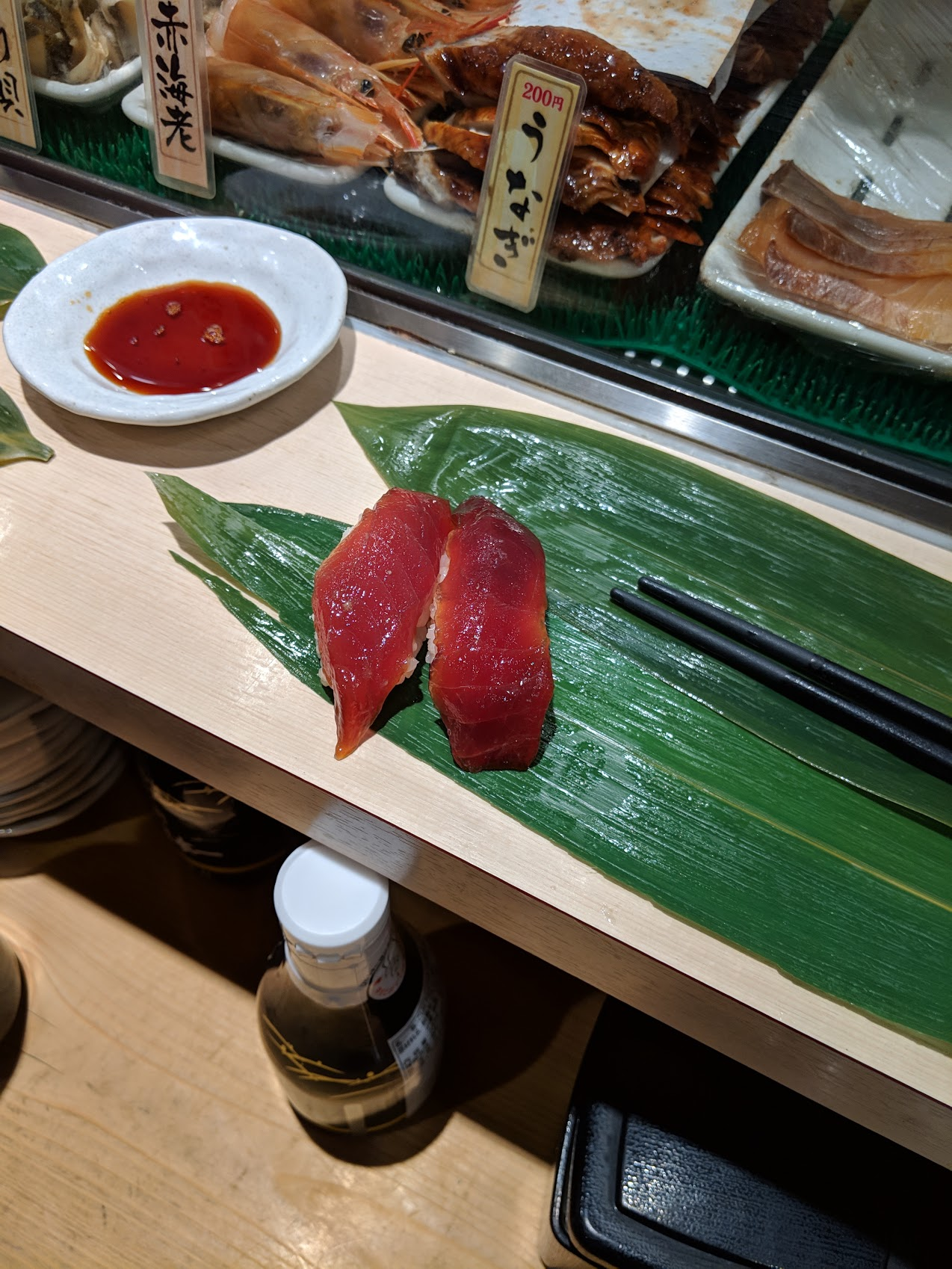 About 5 sets of sushi later, with a tingling of wasabi in my throat, we called it a night and prepared for our bullet train towards Kyoto. There was one hiccup however: we had a lot of big bags that would be a pain in the ass to take with us, but nowhere in Shinjuku to store them. Our hotel, being full of capsules and not rooms, didn't have the capacity to hold onto them for us, and luggage holding services we found online were too expensive or unreliable.
Worry creeping in, we hustled over to the Shinjuku Station visitor center to ask where we could store our bags. Lucky for us, Shinjuku Station (and most other large stations) have reasonably priced luggage services. We could choose to pay per item per day to store at the station and pick up later, or simply pay per item to have them deliver the luggage to a given address. Since we planned on returning to our lovely little pods in a few days, we told them to deliver the bags to the capsule hotel, and all was swell (seriously, if you're planning a trip to Japan, this is definitely something to keep in mind).
With our luggage safely stored, we took the subway to Tokyo. There, we purchased our bullet train (shinkansen) tickets and got on board one of the last trains of the night heading for Kyoto.
---
View all the photos from the trip here!